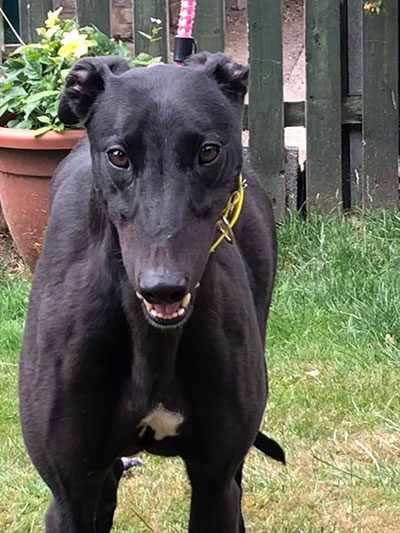 Age: 18/04/2020
Sex: Male
Size: Med/Large
Color: Black
Antonio is a stunning, handsome, med/large gorgeous dog with a great temperament.  Loves his human cuddles and hugs.  Antonio is a gentleman and a very genuine dog and gets along with everyone humans and dogs. He has a lovely temperament and is a happy boy and will be a lovely pet. He loves to be outside in the sunshine just lazing around.  Antonio gets quite excited when he goes out for a walk and he is great on the lead, loves his walks and is a pleasure to walk.     He is fine with other breeds and   He is a great traveller and will love to go places with you.  Antonio is kennelled on his own at the moment but has been kennelled with a female greyhound and enjoyed her company.  WE are unsure of Antonio with children but they would need to be 7+.  Dan is a special boy that is waiting for his forever home and lots of love and tlc.
Are you interested in adopting a dog?
If you are interested in adopting a greyhound visit the homing enquiries page and complete the form.