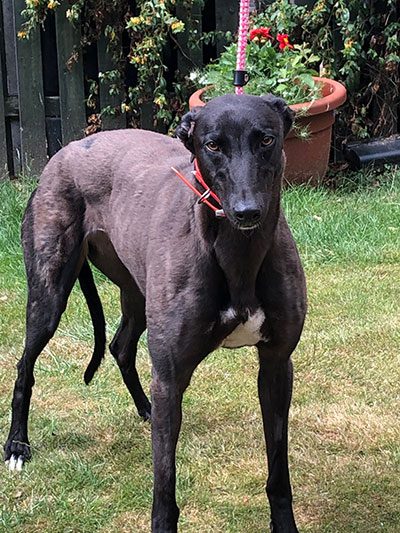 Age: 19/04/2020
Sex: Female
Size: Small/Medium
Color: Black
Demi is a gorgeous, lively, loving,  affectionate, cuddly, unassuming little superstar. She has such a lovely temperament and loves her cuddles and fuss.  Demi is a very friendly, fussy, genuine dog with calm, confident way about her.  Demi loves to go for walk.  Although she can get quite excited and pulls slightly when she goes for a walk but she soon calms down and walks nicely on the lead. She has been fine with other breeds of dogs whilst out walking.    Demi has been fine with children but resident children would need to be 7+ in line with our child policy homing.  Demi is currently kennelled with a male greyhound and she really enjoys his company.  Demi is a good traveller and will love to go on adventures with you.  Just a fabulous little super greyhound.
Are you interested in adopting a dog?
If you are interested in adopting a greyhound visit the homing enquiries page and complete the form.