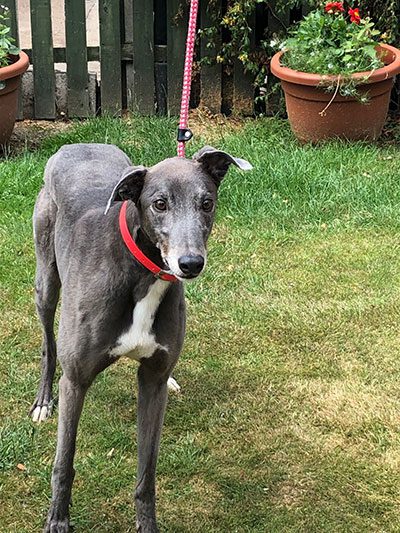 Age: 16/07/2018
Sex: Male
Size: Small/Medium
Color: Blue
Salah is a handsome, cute and cuddly blue young man.  Salah can be quite timid and shy and it will take time to get to know him and to gain his confidence, once you do he will be very cuddly and affectionate and loves his fuss and attention.   He gets quite excited when he goes for a walk and he is good on the lead and has been good with other breeds whilst out walking here with us.  Salah  likes his chill times and lying outside and will love to go on adventures with you.  He is also a good traveller.  Salah  may be okay with older children 7+ but we are uncertain.    He is currently on his own..  He loves to sunbathe and enjoys being outdoors enjoying the fresh air.    Salah is looking for is very special forever home with that special person.
Are you interested in adopting a dog?
If you are interested in adopting a greyhound visit the homing enquiries page and complete the form.