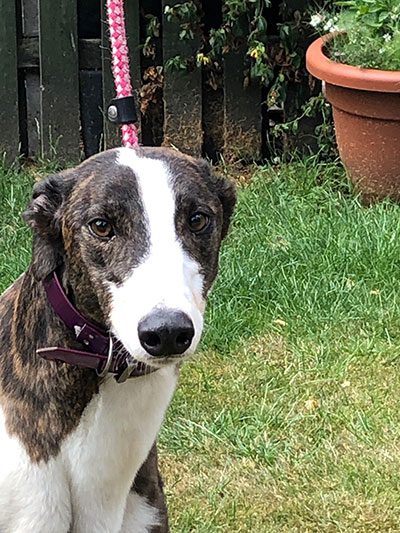 Age: 04/10/2018
Sex: Male
Size: Medium
Color: White and Brindle
Seb  is a handsome, gorgeous, stunning, cute and cuddly white and brindle  young man.  Seb is very happy, friendly boy  and always has a waggy tail and he is very  affectionate and loves his fuss and attention.   He gets quite excited when he goes for a walk and although he is good on the lead he is a very strong dog and currently walked on a halti which has helped so he needs someone with greyhound experience who is able to handle him.  He has however  been good with other breeds whilst out walking here with us.  Seb is a fun dog and he also  likes his chill times and lying outside and will love to go on adventures with you.  He is also a good traveller.  Seb  may be okay with older children 7+ but we are uncertain.    He is currently kennelled  on his own.   Seb is looking for is very special forever home with a fun filled adventure loving people.
Are you interested in adopting a dog?
If you are interested in adopting a greyhound visit the homing enquiries page and complete the form.